AGORA' IMMOBILIARE
Via Della Valle, n. 7
Cairo Montenotte - Savona
+39 019 500033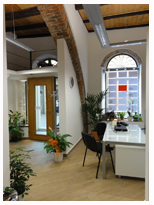 Agorà Immobiliare is a professional real estate agency located in the historic center of Cairo Montenotte, a town in Liguria 20 kilometers from Savona. We are Fabrizio Aghito and Eleonora Bava and we have considerable experience in buying and selling real estate in Liguria and Piedmont. We have a track record supporting our domestic and foreign clientele with the purchase and sale of a wide range of properties including apartments, (farm)houses and estates. We both speak English and have a lot of experience working with international clients.

Whether you are looking for a characteristic farmhouse in Piedmont, a villa with a sea view in Liguria or commercial real estate in either region, we are happy to support you in finding the property that meets your requirements. We also conduct the necessary research and valuations to ensure that a smooth transfer of ownership can take place once you have found the property of your liking.

Buying property in another country - especially if you are not familiar with the relevant laws, regulations and customs - can be stressful if you do not know what to expect. Step by step, we will help you through the entire buying or selling process. This means we present the relevant information to you in advance to make sure you feel comfortable about the entire transaction.

Liguria is known for its beautiful coast and its hilly interior. The hills connect the Liguria coast with Piedmonts' regions known as the Langhe and Monferrato in south Piedmont. Here you'll find traditional farmhouses. Along the coast there are apartments, villa's or town houses. We are happy to explore what suits you best based on your preferences and available budget.

Count on us for assistance in every stage of the purchase and as a foreign client you will get the appropriate support in English. We can also arrange for German and Dutch translations if necessary.
SERVICES
Services offered by the real estate agency Agorà Immobiliare:
buying and selling of domestic and commercial real estate leases
affitti d'azienda (required if you operate a business)
cession d'azienda (if you wish to sell a business or company)
valuations
real estate administration

Based on the connections we have with a team of qualified professionals we can offer customers one- stop shopping for:
Financing & loans
Relevant home and other insurances
Construction and renovation advice
General administrative, fiscal and legal support including translation of the relevant documents
Propiedades en venta por AGORA' IMMOBILIARE
:
42
Resultados de búsqueda para: AGORA' IMMOBILIARE