Agencia
J.K.M. Real Estate Agency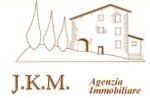 J.K.M. Real Estate Agency
Corso Italia, 111
CASTIGLION FIORENTINO - Arezzo
+39 0575 680759
The JKM Real Estate Agency: ABOUT US

The Go-Between
Looking for a house, a pied-à-terre, an estate in Italy does not have to lead to divorce, broken friendships, lawsuits or financial ruin. That may be the stuff that sells books, but in real life, professionalism, discretion and honesty save trouble, stress and cost. That's why we would like you to choose us as your go-between.
Tuscany/Umbria
The JKM Real Estate Agency operates in one of the most coveted parts of Italy - Tuscany and Umbria. The area is worldwide famous for its natural beauty – hilly terrain covered with oak, cypress, olive trees, vineyards and orchards. Protected from the harsher weather by mountain ranges, the region enjoys a mild Mediterranean climate. Its rich history is reflected in the most exquisite art, architecture, and cultural heritage. The region is renowned for its wines and cuisine – Chianti, Montepulciano and Montalicino Lungarotti, Orvieto enhance the food made of the best and freshest local produce.
The Territory
The JKM Real Estate Agency, with its broad knowledge of the local territory concentrates on properties in proximity to Arezzo, Siena, Castiglion Fiorentino and Cortona in Tuscany, and around the Lake Trasimeno in Umbria. This is the region least spoilt, where hill top towns buzz with life, villages are still inhabited by local farmers and where isolated properties offer privacy and expanse. And where, getting by road and railway to the international airports of Florence, Perugia, Pisa, and Rome is done under 2 hr.
About Us
The JKM Real Estate Agency carefully selects properties to suit its clients' needs and aspirations – be it a holiday retreat, a dream house or a sound investment. Our inventory comprises villas, cottages, country houses, manor houses, estates, city and country apartments. We provide completely renovated properties ready to move, or those requiring renovation or restoration. Our target is to match our clients' ideas with appropriate real estate opportunities. The task is carried out professionally and with complete discretion. In order to provide comprehensive services, the JKM Real Estate Agency has an ongoing relationship with specialists in the legal, notary, tax, and administrative sectors. Technical support is provided on demand and ranges from recommendations to project management when a property requires partial or total renovation, restoration or redevelopment.
About You
The JKM Real Estate Agency will guide you through all the processes and procedures related to property purchase and renovation work if required. Our highly trained staff and associates will assist our clients in any of the following languages - Italian, English, Polish, German and Russian. Our team is a point of reference to the client in all phases of the transaction – resolving problems, providing professional advice and facilitating navigation through the often intricate means and ways of Italy.
The JKM Real Estate Agency will make you discover the pleasure of buying, renovating, and furnishing your property, be it small or large. Our job is to have your house ready for you while you are spending your time and energy on the wonders of Arezzo, Siena, Florence, Perugia, Cortona, San Gimignano – just to quote a few of the wonderful places in Tuscany and Umbria. Our target is to free you from all the tedious tasks and make you enjoy this region as much as possible
Jolanta K.Moy

The JKM Real Estate Agency: OUR SERVICES
The JKM Real Estate Agency and its associates provide:
Full and trustworthy description of the property
The picture is worth a thousand words, but thousands of euros merit a few honest words. Property descriptions while enhancing the assets must reflect existing facts and figures.

Verification of legal, tax documentation and property specifications
Two decades of property transactions must be documented.
All tax payments must be documented.
All building permits must be documented.

Assistance with the notary procedures
The sale/purchase agreement is prepared and legalized by the notary public. All formalities and document submissions must be filed with the office of the notary public.
Applications for bank loans/mortgages must be verified by the notary public on the basis of the property documentation submitted.

Assistance with restoration, renovation, redevelopment
All work, both exterior and interior, requires local community permits.
All buildings are classified according to restoration, renovation, redevelopment criteria. Permits will be obtained accordingly.

Cost estimates
An accurate and trustworthy cost estimate is the basis for our project management.

Turnkey renovation projects
We provide all-inclusive services for property renovation and redevelopment.

Service recommendations
We recommend tested trades and suppliers for exteriors including landscaping, and interiors including fixtures, fittings and furnishings
Propiedades en venta por J.K.M. Real Estate Agency
:
26
Resultados de búsqueda para: J.K.M. Real Estate Agency